In part One, I made promise of a better way of handling fish. A profoundly easier way, and an all-important inexpensive way that will require a one-time investment of less than $50 to set up.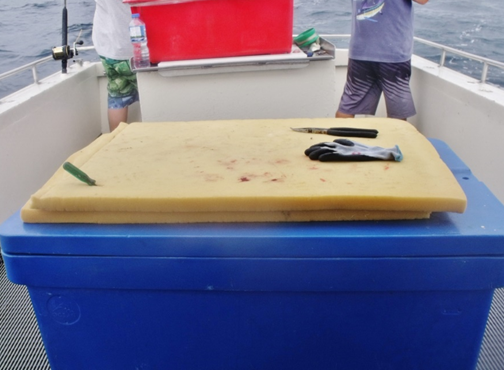 When in use, a sponge bed doesn't take up any more room, and is well suited to any reasonable sized ice box
So now half way through this series, and in this part having highlighted the benefits of landing fish to wet sponge foam (in almost every fishing scenario), we are less than 2/3's through the budget after spending our folding stuff on a piece of sponge foam. Places like a 'trade name rubber retailer' sell sponge of all descriptions, as do upholsterers and various other places, while the roll pictured in this article was scored for $1 from the local tip shop. So there are no excuses. I mean who wouldn't want to accelerate their fishing with a landing method that made promise of:
• Streamlined, more stress free fishing.
• More time with your line in the water equating to more fish in the boat or ice box.
• Safer, more sophisticated and responsible technique.
And ultimately,
• A far superior eating product at your table.
So what are you waiting for? Get out there, get yourself some sponge the same size as your ice box lid, follow the guidelines set out above, start landing your fish like a champion and enjoy fishing even more. It really couldn't be easier.
Next part of this series, I will get down to the pointy end of how to treat your keepers, with a thorough description of another centuries old handling technique that will quite literally blow minds.
Until then, see you in the soup!